About Company
Achievements and goals
Partnership
Management of complaints
About Company
KITEK CONSTRUCTION LLP is a fast-growing multidisciplinary company based in Kazakhstan. The company was founded in September 2008 in Atyrau, Kazakhstan.
In 2009, the Company has been accredited as an Electrotechnical Laboratory;
The Company holds a Category 1 State License for Construction;
The company provides specialised services, such as installation, commissioning, start-up, operation and maintenance. Various areas of specialisation include Electrical Engineering, Instrumentation, Mechanical Engineering, HVAC, Telecom, Integration of control systems, etc.;
The core team consists of more than 100 highly professional, trained and certified employees including project managers and management specialists, supervisors, engineers and technicians.
Our staff are certified by ABB, Siemens, CompEX, Schneider Electric, Schweitzer Engineering Laboratories (SEL),
Tyco Electronics (Raychem) etc.
The company maintains an additional HR database with over 2,500 CVs of local and foreign employees.
Achievements and goals
OUR MISSION is to make a valuable contribution to the development of Kazakhstan's economy and to be the best partner for petrochemical, oil refining and energy companies. We combine quality and reliability to provide services distinguished by safe performance of the most complex engineering tasks and high-quality for safe and efficient production. To fulfill this mission, we set the following strategic goals:
• to achieve the leading position in the sphere of services provided by KITEK CONSTRUCTION LLP;
• to increase reliability of both technological and economic performance by introducing new technical and technological solutions;
• to maintain progressive and sustainable business development;
HOW WE PLAN TO ACHIEVE OUR GOALS:
• By consideration of key components of Incident and Injury Free with a view to sustainable development.
• By paying attention to the needs of our clients and using an individual approach to each client to address their issues.
• By maintaining a high level of the services provided for our clients.
• By introducing advanced technologies with the use of modern equipment and improvement of the qualification level of the company's personnel.
• By ensuring strict compliance with the legislation of the Republic of Kazakhstan, international standards and clients' requirements.
Partnership
KITEK CONSTRUCTION LLP is an Accredited Partner of Hitachi Energy company in Kazakhstan. As part of this partnership we supply a high voltage electrical equipment to our clients, including design, transportation, installation, commissioning, handover to operations and maintenance services.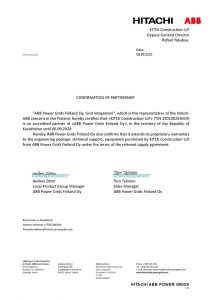 Management of complaints
Management of complaints is carried out in accordance with the requirements of KC-QA-DP-013 procedure.
Complaint management refers to the Company's actions taken to ensure that the complaint is effectively handled, does not adversely affect the quality of services, and does not damage the company's reputation.
Full document can be viewed by the link: KC-QA-DP-013 Procedure